Previous Post:
Livingstone to Lusaka, with iDE Farm Visits
&nbsp Next Post:
Observing a Farm Business Advisor Training Class
Thursday, 8/2/2012.
We had a light day today. We went to iDE Zambia headquarters for a meeting with Duncan Rhind, iDE Country Director for Zambia. Duncan was very helpful in making or suggesting arrangements for our trip, and in getting us properly prepared to come.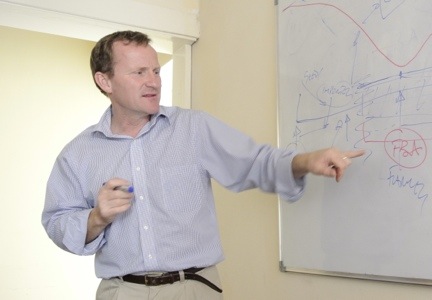 Today, we spent about two hours receiving and discussing a presentation by Duncan about conditions in Zambia, iDE's work here, and about the Farm Business Advisor program in particular. There isn't room or time here to try to convey a lot of the information we covered, but for those who might be learning about iDE for the first time in this blog, I'll mention just a few items.
IDE has about 25 employees in Zambia at present, with about half at HQ and half in the field. In their 15 years' work here, they've spent $125 million, impacted 310,000 farmers who have increased their income by about $1000 on average, for a total return of $3.8 billion. That's a return of 30:1 on the investment, ignoring future income gains not yet measured. This is definitely the most effective approach we've seen toward addressing worldwide poverty, and its associated problems of hunger, lack of access to health care and education, etc.
Duncan says the Farm Business Adviser is "part of our exit strategy". He doesn't mean they're leaving, of course, but that the program is aimed at the major goal of sustainability — the ability of the program to continue on its own, without ongoing support from iDE and its donors.
And iDE is clearly focussing its energies where the problem is. Seventy-five percent of Zambia's poor are in rural areas, yet only 4% of aid currently goes into agriculture. And that's a shame on every scale. Aside from the question of poverty in Zambia, there's a large opportunity cost here at the national, continental, and even global levels. Zambia has a large portion of the arable land in all of Africa, and only a tiny percentage of it is under cultivation. Zambia could be the breadbasket of Africa if smallholder farmers were making productive use of this land.
In the afternoon, we took a break, as Duncan's wife, Jill, was kind enough to take us to see Chikumboso, an interesting and innovative place. They started out as a shelter for abused women. They've gradually grown to include a school, a library, and various other facilities. The most visible part of their effort, though, is a crafts industry that they've built to employ women and vulnerable children. This started out with amazingly durable, and very pretty, bags made out of trash-bag material cut into strips and crocheted. Here is a group of women and children processing and crocheting trash bags.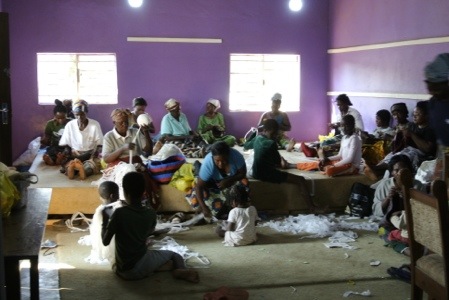 And here's the result.
They've added beaded bracelets and the like, and a line of clothing, iPad and laptop cases (I now have one) and other products made of the very colorful titengi cloth. They've recently expanded to include disadvantaged boys in the program.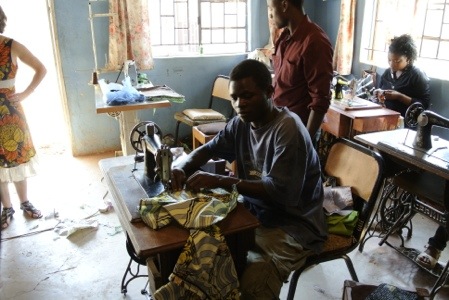 This is a sort of cottage industry that can teach disadvantaged folks a trade while supporting a whole community. The crafters receive the bulk of the income from these items, part immediately, part in a savings account (some eventually buy houses) and some in a special emergency-only savings account which they can use in their own emergencies or to help others.
We're taking a few of these items back home with us.