Previous Post:
Progress Report: Gender and ATI Study
&nbsp Next Post:
Rocky Mountain MicroFinance Institute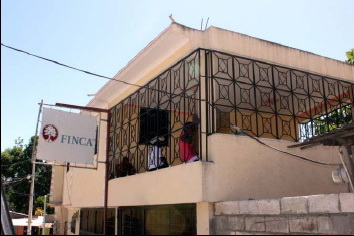 As described here, we made a long-term $50,000 loan to FINCA, in early 2012, to be used for microloans in Haiti. We had looked for other ways to do something helpful in Haiti, given the terrible series of disasters there, as well as an ineffective government and many other problems. Initially, we donated funds to Catholic Relief Services for use immediately after the 2010 earthquake. But one of the (several) problems with charitable emergency response is that it tends to be very short-term. Donors forget, or move on to the next disaster. Our orientation is to look for long-term, sustainable ways to make a difference. We were in negotiation with FINCA anyway, and when they offered Haiti as one of the possible applications for our loan, we agreed.
A bit later, we discovered that another NGO, Sustainable Communities Fund (SCF), had made an almost identical arrangement. Kim LaFranchi, their Director of Operations, then made a trip to Haiti to learn more about how the program operates, and how well it was working. She and SCF have kindly allowed us to post the report of that visit on our website. We're very pleased to do so, as it provides a more concrete view of how microfinance works, and specifically how the program we're sponsoring in Haiti works.
The report is here.
Tags: financing, FINCA, Haiti, microloans, SCF