Previous Post:
Webmaster Scrambling to Catch Up!
&nbsp Next Post:
Edible Gardens and Drinkable Beans
Alice and I (Rudy) are members of the Global Advisory Council (GAC) of TechnoServe. TechnoServe is one of the international NGOs on our "Strategic List", and their GAC consists of a group of their especially involved donors. Each year, the members of this group have an opportunity to travel together to one of the countries in which TechnoServe works, and to view the work first-hand. We've previously traveled with this group to Chile and Mozambique, and in March, 2017 the group visited Guatemala.
Because Alice was still recovering from knee-replacement surgery, she didn't go on this trip, and I took her sister, Jeanne Haster, who lived in Guatemala for four years in the late 1970s and early 1980s. This was her first visit to Guatemala since that time. Jeanne is Executive Director of JVC Northwest.
Sunday, 3/12/2017
When we arrived in Guatemala City, we were met by a TechnoServe driver who took us to Antigua, where the group was gathering for the tour. On the way there, we learned that all the entrances to Antigua were closed because of a Holy Week procession and other festivities in the streets. That seemed like bad news, as we were imagining sitting in the car for four hours waiting for the procession to end. But our driver turned that into good news, as we parked the car and walked into Antigua, luggage and all. In the process, we walked right past the procession and through the gathered crowds. What a delightful experience!
Here are Jeanne and our driver, Luis Fernando Munoz, walking through the procession crowd to our hotel. I tried repeatedly to wrest our luggage away from Fernando, but he wouldn't give it up.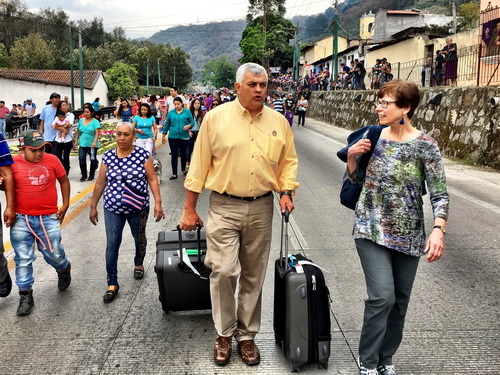 A dominant feature of the celebration were alfombras, beautiful carpets made of brightly-colored sawdust.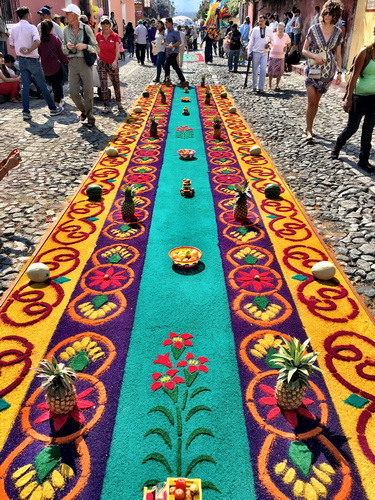 Here's how the alfombras are made.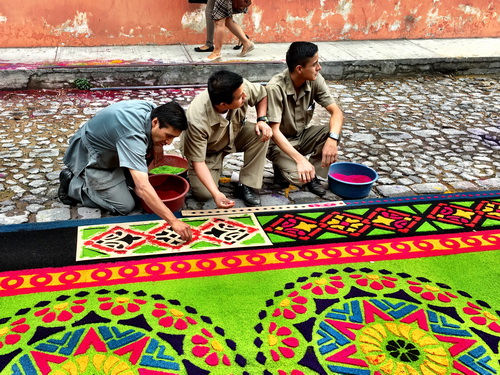 The other special feature of these processions are andas which are like parade floats, but they contain appropriate religious statuary, and they're carried aloft by large numbers of people. A really big anda might be borne by hundreds of people. If you look carefully through the crowd here, you can see the folks — all dressed in purple — who are carrying this anda.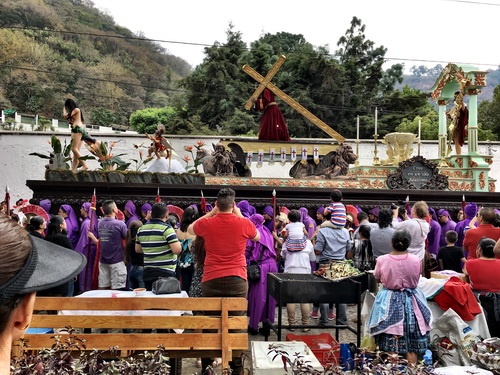 Apparently, brightly colored sawdust has additional uses, as we discovered in our hotel, the Casa Santo Domingo in Antigua.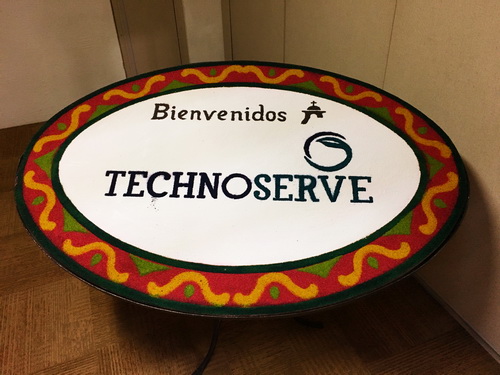 The rooms in this hotel were remarkable, and I was especially lucky.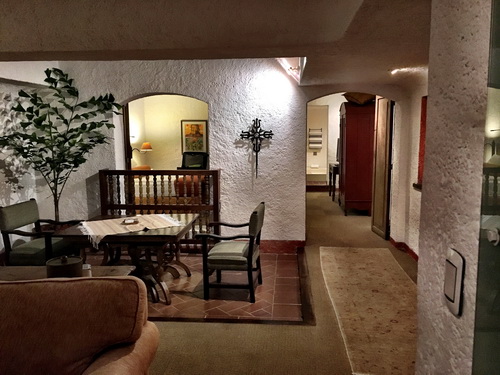 Our dinner was excellent, as well. The foam on top of mine was made of mushrooms.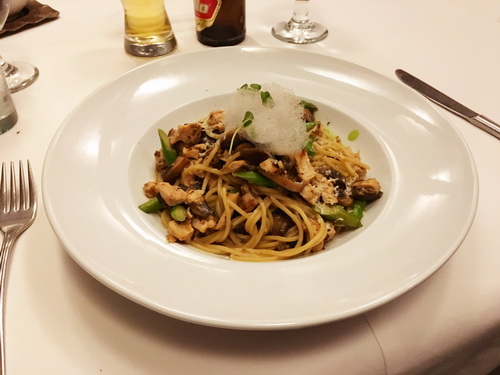 And finally, we were welcomed by our after-dinner speaker, Lionel Lopez. He is currently Vice Minister of Finance for Guatemala, and he's also a former TechnoServe Country Director. He gave us a very interesting overview of the challenges faced by the relatively new government. In particular, he summarized Guatemala's economic situation and the plans and general approach being taken by his department. He's a very engaging speaker, and he gave us a good deal of context that was useful in our visits to TechnoServe clients over the next few days.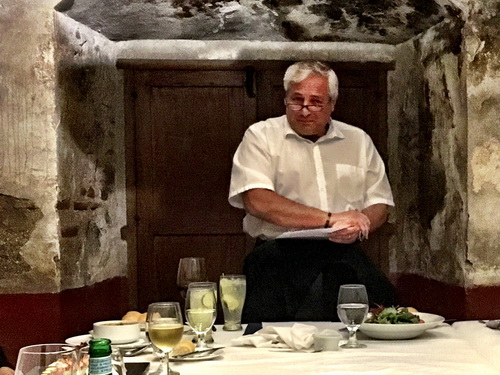 (to be continued)
Tags: entrepreneurship, farming, Guatemala, TechnoServe, trips