One of our favorite charities is iDE. Their mission is to increase the income of the 2 billion small plot farmers in the world, who earn less than $2/day. iDE doesn't operate by giving handouts, but uses a far more effective and sustainable approach. They regard the smallholder farmer as an entrepreneur who will take advantage of effective technology and information, as well as supply and marketing systems, if they're designed to be affordable and relevant to use on very small farms (1/4 acre to perhaps 2 acres).
iDE is well known for simple and inexpensive treadle pumps capable of bringing irrigation to such farms, but I'll cite a different example, to illustrate the idea clearly. iDE has developed a 200,000-litir water storage system that can be purchased by the farmer for $400, and is capable of storing enough water to irrigate 1/4 acre of farmland for a season. The system is filled during the monsoon season, and used during the dry season (when crop prices are highest and most farmers are idle due to lack of water) to add a full growing season. This technology alone can add $500 income in it's first year of use, paying for itself in less than a year while adding a large long-term income boost to the farm family. This is a very typical example of an iDE technology.
| | |
| --- | --- |
| | Donald Tembo from Chibombo District in Central Province of Zambia accessed a $380 loan in October 2011, facilitated through an iDE Farm Business Advisor. With this money he invested in a treadle pump which enabled him to irrigate four times as much land, expanding his garden from 1/8 hectare to ½ hectare and sell his tomato, melon, cucumber and green beans at the market. (Reprinted with permission from IDE Wellspring, May 2012.) |
These folks do a great deal more, though, providing multiple relevant technologies, and connecting them to microfinance so that farmers can afford to purchase the systems. They set up multiple, competing in-country manufacturers for the devices, so that the systems are an on-going business for local firms, maintenance is locally available, and the sustainability of the approach does not depend on iDE's continuing presence.
They also help develop supply chains and marketing venues suitable for smallholder farmers, and provide technical knowledge about agricultural techniques, crop selection for more profitability by small-plot farmers, and lots more. Indeed, they've developed (in Cambodia) a system for training selected local farmers to serve as Farm Business Advisors (FBAs) to the other smallholder farmers in a local area. The FBAs derive a sustainable income from the sale of techological devices in their area, while providing an ongoing source of information and advice on farming matters. This program has been very successful in Cambodia.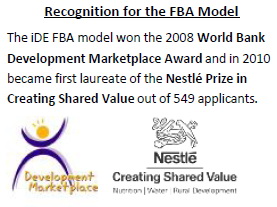 iDE is now expanding this program to other countries in Asia, and also in Zambia as a pilot project for Africa. They're optimistic that the approach can be adapted to Africa, but recognize that in Africa they will encounter differences in culture, climate, economics, available physical resources, and lots more. So it's important to be rigorous in designing the program in Zambia, and to include an objective assessment of the effort as it's carried out.
To this end, iDE is conducting the Farm Business Advisor Zambia Performance Enhancement Project. The goal of this project will be to develop an initial cadre of trained FBAs in Zambia. This will involve assessing the training needs of the FBAs here, developing training materials, training an initial cadre of 200 FBAs, objectively assessing the success of these FBAs over a period of time, and disseminating experience and best-practice information to other candidate countries in Africa. The bulk of the project is being funded by RLG International, but we're funding the assessment and information-dissemination phase of the project. Here's iDE's proposal, describing the project, and here's the first progress report.
We, too, are quite hopeful that this award-winning model will prove effective in Africa, as there's a tremendous need there, and a tremendous potential gain. We're pleased at the opportunity to take part in this work.