We spent the morning of our third day meeting a group of smallholder coffee farmers. We met at the farm of one of them, Basilio Minas. These were farmers who had been through the standard two-year-long training program offered by TechnoServe. For the program to be effective, the farmers need to see the methods employed for that long in a demonstration plot. By the end of two years, it has become clear that production and quality are really up, and most of the trainees buy in. Shorter periods are less effective, even though the technical material can be covered in a shorter time.
Eduardo introduced us to one another, and then turned us over to the farmers to get an education.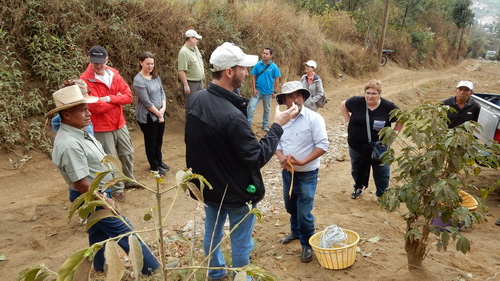 They started by showing us a couple of problems. First, Guatemalan coffee farms have been heavily affected by leaf rust.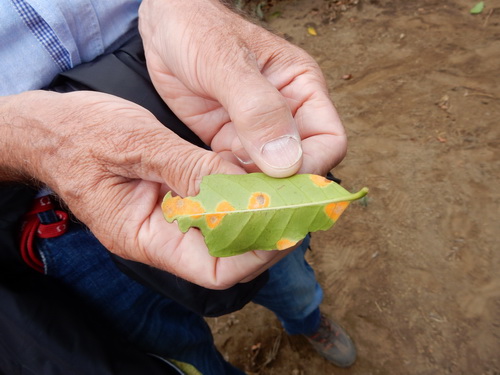 In the past, many coffee farmers here were basically picking coffee from largely untended coffee plants. Those don't produce much, and are especially susceptible to leaf rust, as well. Trash is also a problem in Guatemala in general, and is often another factor in poor coffee productivity.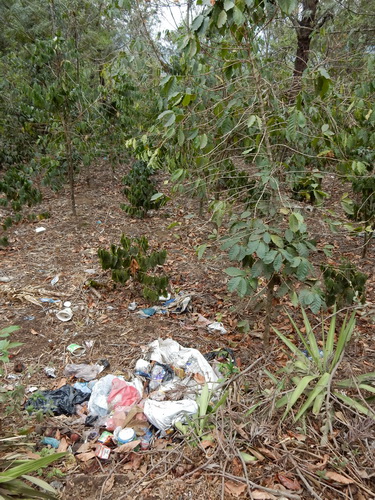 AFter thus showing us how not to do it, our farmers let us play a bit in Basilio's well-tended farm. First, they divided us into three groups, and ran a coffee-picking competition among the groups. Here are Jeanne and Tammy outfitted for picking coffee cherries.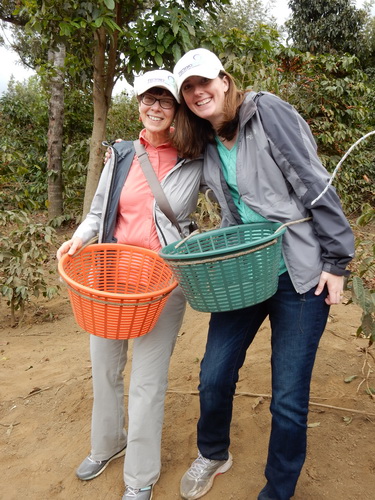 This contest was fun, and gave us a chance to get to know the coffee plants much more intimately than on any other visits I've made to coffee farms. I now have a greater appreciation for the effort involved, but also a little insight into proper technique. Our three groups produced rather different results. One group (yellow basket) picked the most coffee, but a different group (aqua basket) had higher average quality. You can actually see the difference by comparing the colors in this photo. (I'd rather not say which of the three baskets my group picked.) The farmers correctly predicted who would do the best. It seems that women are consistently better at this task than men.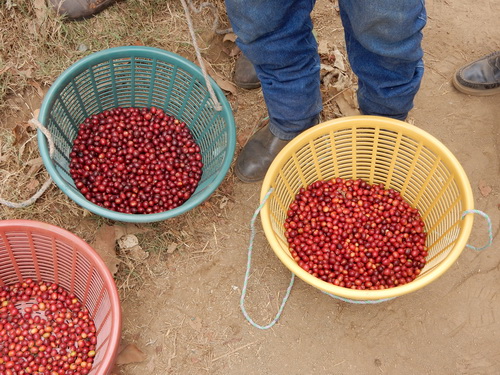 Next, the farmers taught us a bit about pruning coffee trees. There are several different kinds of pruning, and we learned "stumping", in which only the stump of the tree is left. This encourages formation of new branches and can revive productivity (after a delay of two years).
Here's Hans Rueedi showing how it's done.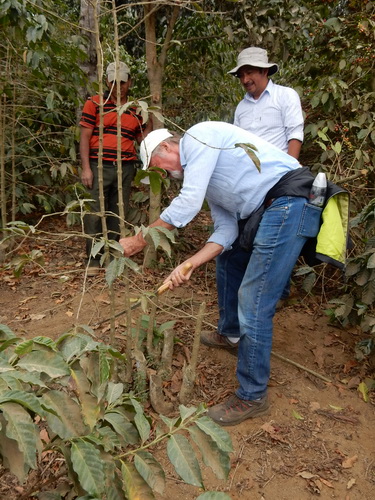 Here's the whole crew. We enjoyed meeting them, and appreciated the hands-on experience they provided for us.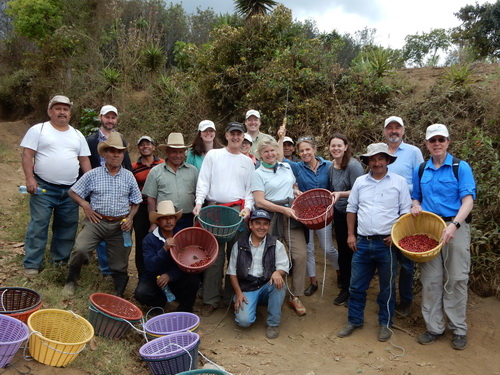 (More coming. I'm a bit slow.)