We've been looking for more strategic investments within the U.S., and particularly within our local area, but they seem to be few and far between. This is not to say that there aren't lots of domestic charities doing good work. But they seem mostly to focus on helping with today's problems.  I usually refer to these as "finger-in-the-dike" efforts. These efforts are certainly necessary, and we do lots of grants of this sort, but they aren't our main, strategic focus.
To fit within the strategic portion of our portfolio, the work has to hold the promise of achieving long-term, sustainable, and scalable change. And, of course, it has to be within one of the areas of focus of our mission statement.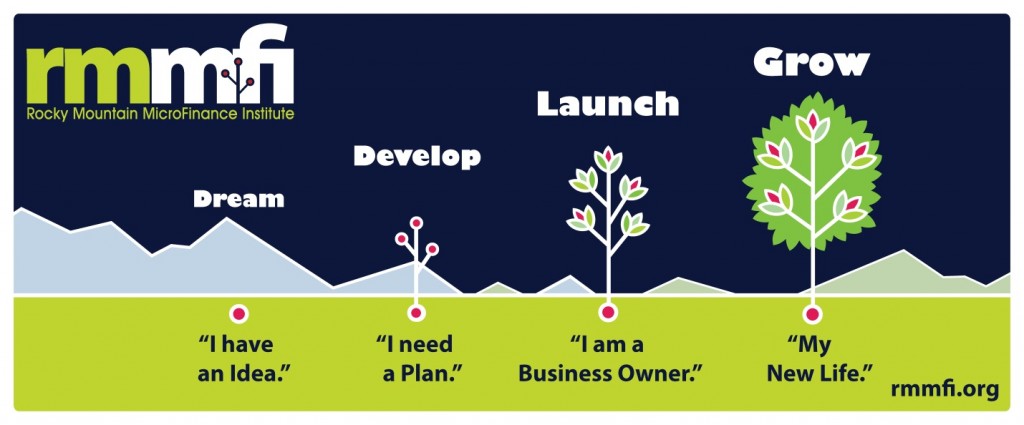 So we/re excited to have discovered the Rocky Mountain MicroFinance Institute (RMMFI). As its name suggests, RMMFI makes small loans to budding entrepreneurs. But that turns out not to be the only thing — or even the most important thing — they do. Using a mix of paid and (mostly) volunteer staff, they run a sort of pre-entrepreneurial program to help would-be small-business owners determine whether or not this path is for them, and whether or not they're ready to take the plunge. Those who are — or become — ready then go through a serious training curriculum, ten at a time. This training lasts 12 weeks, and teaches the aspiring business owners about business opportunity selection. planning, finance, marketing, operations and various other aspects of making a small business successful. In addition to classes, volunteer mentors and coaches provide one-on-one coaching.
The incentives built into this program are both interesting and clever.  The candidates are — as a matter of policy — urban poor, looking for a leg up. Almost all the candidates come to the program because they're looking for a loan, and RMMFI will make a loan to any student who successfully completes the program. But the amount of the loan for which the candidate is eligible depends on ratings on a series of three presentations the candidate makes during the program. These presentations demonstrate understanding of important aspects of a successful business, and the final presentation is of the candidate's business plan.  This forces the candidate to be both thoughtful and comprehensive in his or her preparation for the launch of the business.  And I find it particularly interesting that many of the candidates who graduate start their businesses without a loan, having learned during the training of other ways to use their available resources to get started without debt.

In its first five years (through 2013; click here for report), RMMFI
Helped some 1400 individuals consider entrepreneurship.
Graduated eight classes, which resulted in the launch or expansion of 65 businesses.
Distributed 36 loans, with zero write-offs thus far.
I (Rudy) have become somewhat involved with the RMMFI community, observing their student presentations, taking part in critique sessions, and engaging in discussions about the program with those who manage it. I'm pretty impressed.
There is substantial evidence that the folks who go through this program are much better prepared to deal with creating and running a successful business as a result. My greatest concern as a possible long-term investor in this program is its scalability. It's clear that this kind of program won't scale up by, say, running 10 times as many folks per year through it. The way that it might well scale up is by expanding to other communities, and perhaps eventually by serving as a template for use by other organizations. These are possibilities that are under active consideration by the RMMFI Board.
Another concern that comes naturally to mind is the degree to which such an intensive program can be sustained by the involved staff and volunteers. The best answer I can offer is that there's a remarkable sense of community and enthusiasm associated with this whole affair. I think they may have hit upon a magic formula. Time will tell.