Saturday, 8/4/2012.
We spent the day touring with four people from Habitat for Humanity Zambia (HfHZ). Two of the six houses we've funded here are in Chazanga Township, on the northern edge of Lusaka, and we started with visits to see those houses and meet the families who own them.
All of our houses have been part of the Orphans and Vulnerable Children project, so the families typically consist of a grandmother living with her grandchildren, whose parents have died — often of HIV/AIDS, which afflicts 20% of the population here. Sometimes, they're even child-headed families. The Habitat folks told us about one child-headed family that was very successful once they had adequate, safe housing. These children have been able, with a combination of aid and earned money, to remain in school and pay their mortgage. The oldest of them, who presumably is the head of the household, is now in college. When you see the conditions under which these folks have to live, it's clear what a tremendous accomplishment that is.
We were (pleasantly) surprised to learn that the standard Habitat model is applied even to these families. They must contribute resources, according to their means, to assist in the construction of their houses. Their "sweat equity" includes the blocks used to construct the house, which are made by the family. And they take out a Habitat mortgage, which they are required to repay. This makes them heavily invested in the house while reducing the cost of its construction. It also increases the sustainably of the whole program, as mortgage repayments help finance the next generation of houses.
Our first stop was at the home of Elizabeth Mwale. She is a widow who has lived in Chazanga Compound for more than 20 years. When one of her daughters, Judy Mwanza, and Judy's husband died, Elizabeth was left to care for the six orphaned grandchildren. She had saved enough money to buy a plot of land here, but could never afford a decent house. Her original house has been destroyed now, but the Habitat folks showed us a similar mud-block house nearby.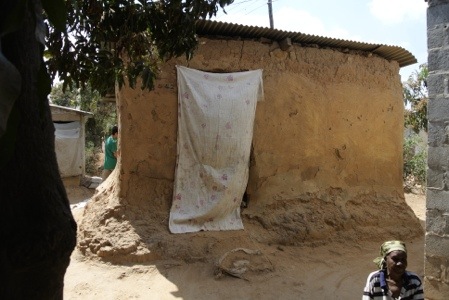 Because of the poor building materials, the house had many leaks, and the roof leaked during the rainy season. Overcrowding also contributed to the chorionic infections and other diseases suffered by the children when they lived there. Those problems are gone now that they've been living in their new, three-room house built in 2010. Here's Elizabeth inside the house.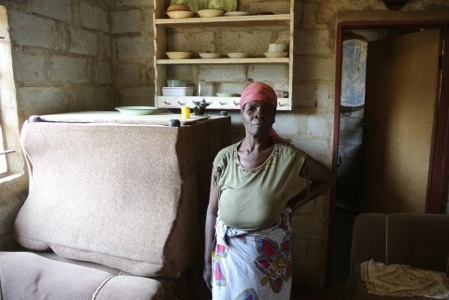 The family is doing better in other respects, as well, partly because their reduced medical costs have freed money for food and other needs. Elizabeth earns her once selling tomatoes and vegetables to Chazanga residents, as well as groundnuts that she buys from farmers in her own village in Eastern Province. The children are all in school, with some financial support from another NGO, Project Concern.
Here we are with the family and a fairly good view of their new house. Shown, left-to-right, are Rudy, Elizabeth, Masauso (13), Nathan (14), Carlos, Imelda (11), Maria (Miriam) (12), and Judy (14) and Alice.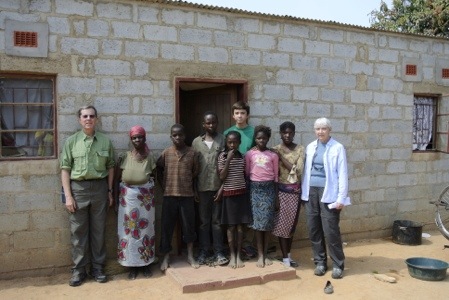 We were all instantly taken with Eugenia Sakala, our second homeowner, who is good-natured, energetic, and friendly. Her story is essentially identical to the one above. When her daughter and son-in-law died, Eugenia was left with four grandchildren to raise. Left-to-right here, they are Biko, Patricia, Francis, and Sheila, who is holding Patricia's baby.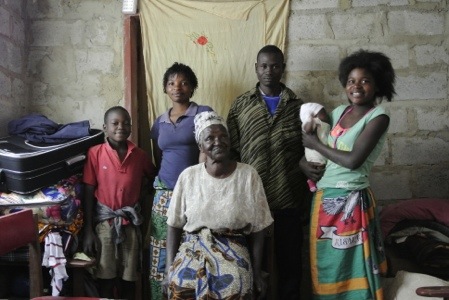 Here are Biko, Sheila, and Eugenia in front of their old house, which had exactly the problems described in the previous story.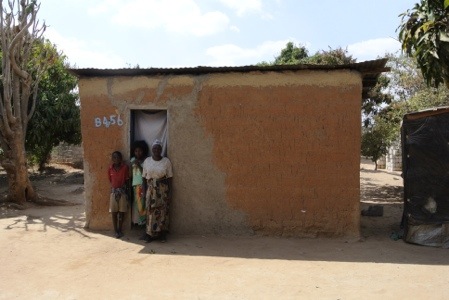 Here's the new house, also a standard HfHZ three-room house.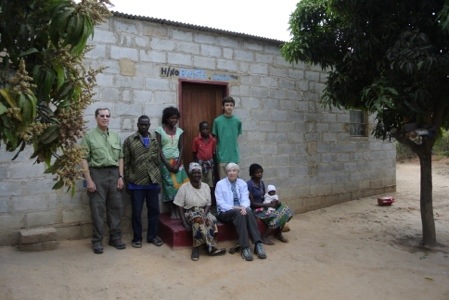 Eugenia earns a living gathering stones and concrete fragments around Chazanga, and crushing them into aggregate for sale to builders. Her "hammer" is an old automobile half-shaft.
These children, too, are all in school, except for Patricia who hopes to go back to school when her baby is a little older. We really enjoyed meeting these two families, and are pleased to see that what was a relatively small amount of money to us has made such a difference in their lives.
More recently than 2010, when these two houses were built, HfHZ started adding an extra room to their houses, with a separate entrance. This room can be rented out, providing the family with an ongoing source of extra income.
We also visited Tiyende Padmodzi, an entire community built by Habitat. This is an impressive place, a spacious planned community, with houses, streets, a community center, a large field for sports, and other amenities very well laid out. There are 93 mortgage houses here, typically with three bedrooms and substantially more space than those we saw above.
We visited the home of George Gondwe, a Paralympic athlete and now sports official who lives in a row of homes devoted to disabled persons. These houses all have electricity, and the TV was on here. They're also all equipped to connect to running water, if funding is ever obtained to lay the pipe through the community.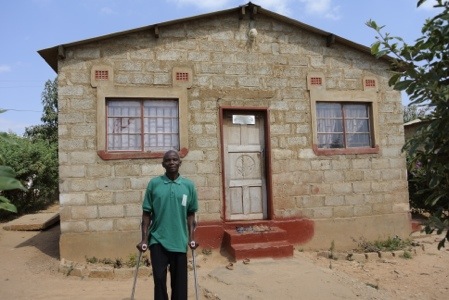 We also visited Christine Kumwenda, shown here with equipment she put together to enable her to make Freezits (essentially Popsicles, but without the stick), which she sells in the community. She also makes and sells small dolls.