Wednesday, 8/1/1012.
Today, we began seeing the iDE program in Zambia first hand. Two iDE vehicles transported us all from Livingstone to Lusaka, with stops at three farms, to see the farms and meet farmers and Farm Business Advisors (FBAs). This was a 12-hour affair, though the only unpleasant part was the long rush-hour drive in Lusaka itself. Alice, Carlos, and I were in one vehicle, driven by Willard Chitembo, a Field Team Manager in the FBA program, while Steve and Ana were in the other vehicle, driven by Yoram, and accompanied by Sam Harvey. Here's a photo of Willard, Sam, and Yoram:
Our first stop was to meet Veronica, whose farm is near Livingstone.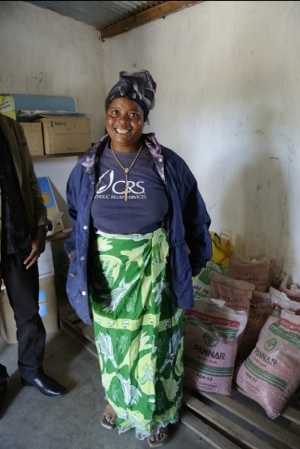 Veronica is ebullient, a successful farmer, and a successful FBA. She runs her FBA business out of a small building built for the purpose under a grant from CARE.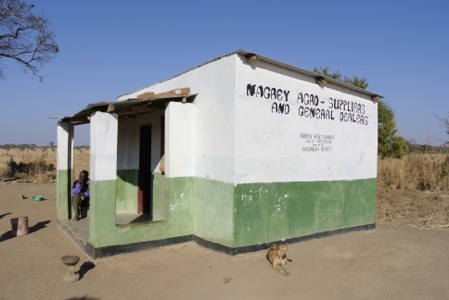 There she sells treadle pumps, petrol pumps, and a variety of chemicals and seeds. She uses a simple treadle pump on her own farm, as her water source is a small pond.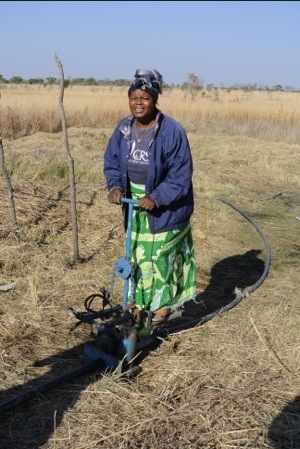 We had an opportunity to talk with her at some length, and to see the variety of merchandise she sells, as well as her garden. During the monsoon season, she cultivates a larger area, but she has not enough water for the garden during the rest of the year.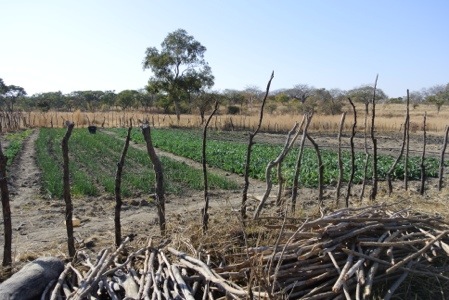 As she has built her FBA business, Veronica has been competing in farm shows as a marketing method, and has won several shows this year.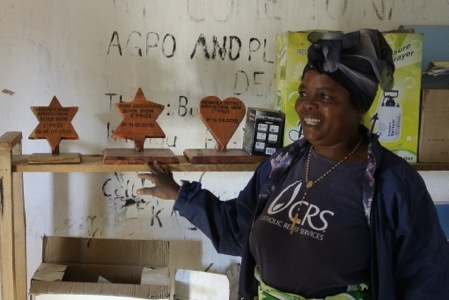 Her biggest problem at present seems to be fatigue from traveling long distances on foot to her meetings with the farmers she supports. A bicycle (Zambike) would seem to be in her future, but that's a business-investment decision for her (they cost $200), so it will likely have to wait until she has sufficient profit from her FBA business to afford it. She also hopes to have a good well drilled on her farm. That, too, will be a business-investment decision. Veronica is a very energetic, charismatic person, and it's easy to imagine her accomplishing much more.
Our next stop was a visit to Morrison, a very successful farmer near Pemba.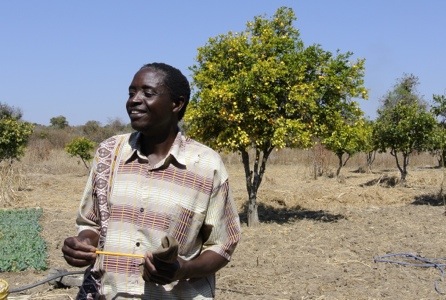 Morrison has been a beneficiary of iDE technologies and information since 1997, and they have greatly improved his effectiveness as a farmer. He has a treadle pump that has been in continuous use for 11 years, as well as two petrol pumps and lots of drip irrigation equipment. He credits the labor-saving properties of these technologies for his family's ability to cultivate a much larger area, and it's clear from looking at the farm that it's well managed. This plot supports Morrison, his two wives, and their ten children at a level that has allowed the children to stay in school through high school (Zambians must pay for school after the seventh grade).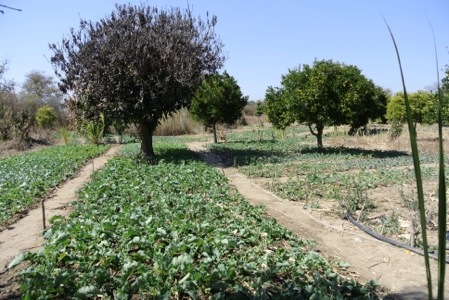 Morrison is making a bit of a slow start as an FBA, and this is likely because he's so good at, and involved in, his own farming. However, his wives and older children are gradually taking on more responsibility, and it's possible that he will gradually move rather naturally into the expert-farmer-and-educator role that could make him a very successful FBA.
McCoy, the Regional Field Manager in this area for the FBA program, spoke quite frankly about this issue, and is working with Morrison to help him find the right mix of these roles.
Our final stop was near Kafue, where we met with Clement Phiri, who shares with three other farmers a much larger farm made possible by its proximity to the Kafue River.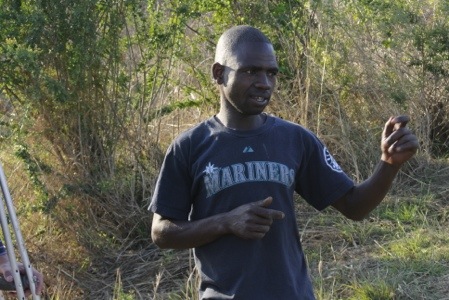 He showed us large fields of cucumbers, peppers, tomatoes, and other vegetables irrigated with a petrol pump.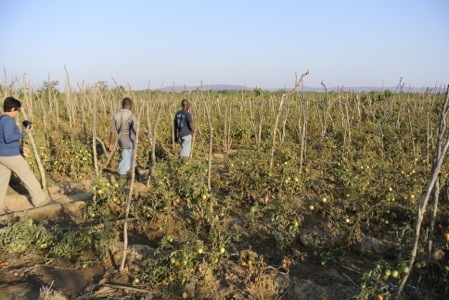 This farm is definitely at the upper end of what's possible for smallholder farmers. One of Clement's partners in this farm is the FBA for the area, and he has worked his way up to such investments as a hand tractor, which can plow and till at many times the rate possible with a hoe. This gives him not only greater effectiveness on his own farm, but also an asset he can rent out, perhaps in exchange for other farmers' labor or for fuel.
All in all, the day gave us a much more concrete understanding of farming in Zambia, iDE's role as a facilitator, and the FBA program as it exists today here. We also slept very well after this very full, 12-hour outing.

Posted 6 years, 10 months ago at 8:27 pm. 1 comment